Links
The Diabolical Dominion Horror Entertainment
Ted Geoghegan Film Maker
Bruce Campbell Online Bruce Campbell Anybody?
CULT CUTS Cult Movies
Dark Side of the Net Dark Links
Dark Waters Tidbits and Reviews
HorrorMovies.com Serving Horror Fans and Industry Personnel Since 1996
THE HORROR SOURCE Tons
Horror News Err News?
The Horror Movie Directory Stuff
The Red Planet Phantasm
THE RETURN OF THE LIVING DEAD Ultimate!
Goblin The Best
Scream Queen Online Daily Horror Comic
Shocking Images What It Says
The Cabinet of Dr. Casey The Horror Web Page
TV Now What Horror Movies Are On TV?
Ursula The Cannibal Girl Comic
Violent Maniac Video Videos
mr.chiller horror host of hosts
Evil Dead Interactive Evil Dead At Play
Society's had its chance I'm Going Hunting. Hunting Humans!
Page Of The Living Dead General
The World Of Stevin Kassle Film Maker
Wicked Al's Horror Reviews Yep! Reviews
Blackest Heart Media Spend Money
BLOOD TIMES VIDEO Videos
Video Vault Letterboxed Videos
Grave Side Spend Money
Gorehound Video Spend Money
Monster Vision Host Joe Bob Briggs
Phantasm.Com Official site
Wes Craven Films Official site


Lots of stuff
Rubbed Raw Rock and roll musicals about axe murderers, sorority girls, women in prison, etc.
Video Mayhem Guys in Florada that sell all kinds of videos from $10 and up with deals!


Played trowel wielding little girl from Night of the Living Dead
---

Original "Gross" T-shirts
---

They got some great movie titles and cheep too!
---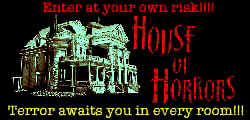 Movie reviews among other stuff
---

Some tidbits about Director Lucio Fulci among other things
---

Beautiful Betty's Domain
---

Dark Child
---
Send your banners to me

HORROR HIGH